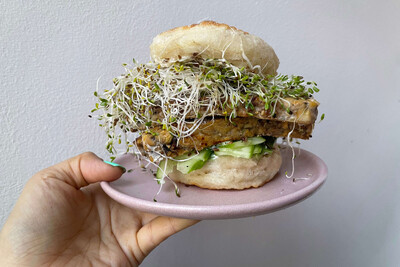 According to 30 Rock's Liz Lemon, "All anyone really wants in this life is to sit in peace and eat a sandwich." We're inclined to agree. Especially if it consists of creamy avocado, crunchy sprouts, lightly fried tempeh, and a spritz of lemon juice. Below, food writer Wei Tchou shares the recipe for the delectable veggie sandwich she mentions in her essay for Prism's The Meat Issue, "Make Tempeh, Not Despair." And you can find Wei's tempeh recipe here.

1 English muffin
Tempeh, sliced into thin slabs
Coconut oil
Salt and pepper
Mayonnaise
½ Avocado
Lemon
Red pepper flakes
Cucumber, thinly sliced
Sprouts 


Split and toast your english muffin.
Fry the tempeh slices in coconut oil, with salt and pepper, until golden and toasted.
Spread copious amounts of mayonnaise on both sides of the English muffin, then decide which is the bottom half and which is the top.
On the bottom half, smash your avocado with lemon, red pepper flakes, and salt.
On top of the avocado, arrange slices of cucumber (as many as you want, but be mindful that the quantity will affect the architecture).
Add tempeh slices on top of the cucumbers.
Put a huge mess of sprouts on top of the tempeh.
Top half on top of sprouts.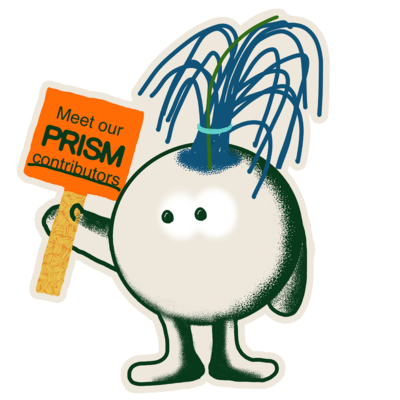 Wei Tchou
Wei writes about culture, food, and nature. She lives in Brooklyn.
Prism asks: What is the most unique thing you've ever eaten?
"While I was reading The Omnivore's Dilemma as an impressionable teenager, and clumsily rethinking my relationship to eating animals, I took a trip to the Ecuadorian Amazon. During a particularly arduous hike, my rainforest guide pulled up a long blade of grass, on which were a dozen or so small ants. He motioned for me to eat them, so I did. They tasted exactly like lemons. I would say this sums up my approach to plant-based eating—make good, righteous decisions about what you're eating, when you can. But always eat the ants!"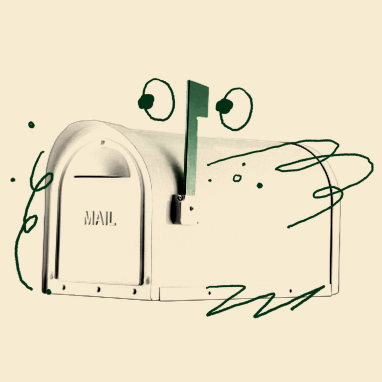 Prism Postcards takes the cringe out of wellness. It's smart, inclusive, and funny. Sign up and get it delivered to your inbox every other week.